2012 heats
River Championship > 2012

2012 Scottish National River Championship



Heat 4 - 27th May
Top 4 qualify for the Final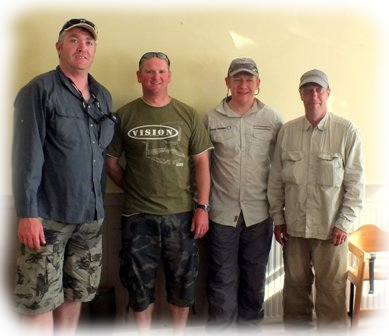 photo: Andrew Foggin, Grant Gibson,
David Downie and Hugh Skeoch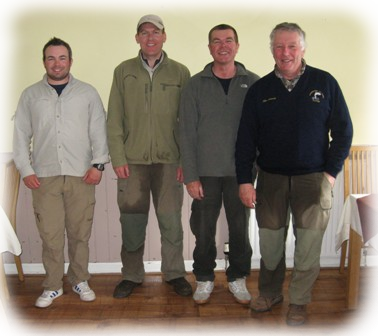 photo:
qualifiers for the final from heat 3
Martin Stewart, Robert Irvine,
Calum Crosbie and Jake Harvey



Heat 2

The eleven competitors in heat 2 faced difficult conditions with low water and a day that was a mix of sun, hail, warmth and cold. Between them they caught 48 trout and 2 grayling and the top five anglers go through to the final.

Ian Jones (Dunkeld & Birnam AA) won the first session with 3 fish. David Graham (West of Scotland AC) was second with 2 fish and Mike Cordiner (Aberedeen & District AA), also with 2 fish, was third.

Dick Logan (Coldstream & District AA) took the second session with 3 fish with Mike Cordiner second with 2 and John McCallum(Stanley & District AC) third with 1. This put Mike Cordiner into the lead after session 2 with Dick Logan in second and Ian Jones in third.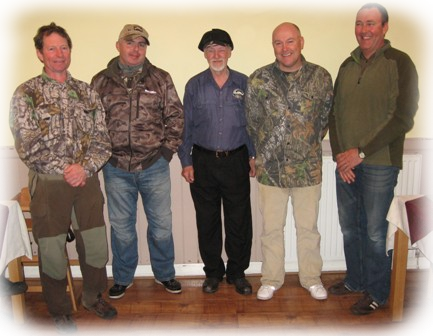 Dick took the third session with 4 fish with Campbell Morgan's (Strathleven FF) 2 fish giving him a second place and John McCallum took third with his 2 fish. By the end of session 3, Dick had moved into the lead from Campbell Morgan and Ian Jones.

In the final session Mike Cordiner was first with 3 fish while James Mackie (Dalzell AC) and Ian Jones took second and third with 2 fish.

At the end of the heat Dick Logan was first with Ian Jones second and Mike Cordiner third. The other two qualifiers were Campbell Morgan and James Mackie.

Dick was drawn in the lower section in the morning and the upper section in the afternoon and took his fish on an iron blue dun and a dark olive. Ian Jones was drawn in the upper section in the morning and the lower section in the afternoon and took his first three fish on wets and the rest on dries. Mike Cordiner was in the lower section in the morning and the upper section in the afternoon and took 6 fish on wets and 1 on dries.

There is now a break with the Championship resuming on 20th May.


photo: Dick Logan Ian Jones James Mackie Mike Cordiner and Campbell Morgan




Heat 1

The 2012 Scottish National Trout Fly Fishing Championship started on Sunday 29th April with 12 competitors trying for a place in the final. It was chilly at the start of session one the net result of which was that 5 competitors blanked in that session with another 3 managing one apiece. As the temperature gradually rose the fish were easier to tempt and 10 competitors took fish in session 2. Consistency throughout the day was required to win a place in the final with the top 4 competitors taking fish in all four sessions. The top five qualified for the final.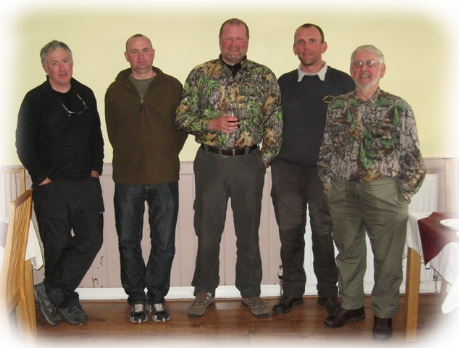 Top rod was Alan Hill (Strathclyde Police RAAS). Alan was drawn in the upper section in the morning and after taking 5 trout in session 1 and 3 trout in session 2 he was in third place at the halfway point. He moved to the lower section in the afternoon where a further 5 fish in session 3 followed by 3 fish in session 4 put him in first place. All of Alan's 16 fish were taken on dries.

In second place was Craig Osborne (Crown FF). Craig also started in the upper section and his 3 fish in session 1 and 6 fish in session 2 put him in second place at halfway. In the lower section in the afternoon he picked up 3 fish in session 3 and 1 in session 4 and held on to second place. Again all of Craig's fish were taken on dries.

In third place was James Litster (Neilston FF). James started off in the lower section and with 1 fish in session 1 and 8 fish in session 2 he was lying in 4th at the halfway point. His 1 fish in session 3 and 2 fish in session 4 were good enough to move him up one place at the end. Jim took all his fish on wets.

The other two qualifiers were David Deane (Pentland FF) who also had fish in all four sessions and Jim Fairgrieve (Edinburgh Breadalbane AC)

photo: David Deane, James Litster, Alan Hill, Craig Osborne, Jim Fairgrieve


Heat 1 29th April 2012

River Tummel

Competitor

Club

Aaron Adie

Lochgelly SRC Angling Section

Simon Cocker

D&B Fly-Fishing

David Deane

Pentland FF

Jim Fairgrieve

Edinburgh Breadalbane AC

Alan Hill

Strathclyde Police RAAS

Paul Jeffrey

Stanley & District

Chris Langton

Dunkeld & Birnam AA

James Litster

Neilston FF

Richard Mchattie

D&B Fly-Fishing

Robert Murray

Strathgryfe AA

Craig Osborne

Crown FF

Keith Renton

Coldstream & District AA

Mick Tate

Kelso AA

Heat 2 6th May 2012

River Tummel

Competitor

Club

Bill Braithwaite

Coldstream & District AA

Mike Cordiner

Aberdeen & District AA

Douglas Graham

West of Scotland AC

Ian Jones

Dunkeld & Birnam AA

Dick Logan

Coldstream & District AA

James Mackie

Dalzell Steel AC

Stewart McCabe

Port Glasgow AC

John McCallum

Stanley & District

Campbell Morgan

Strathleven Fly Fishers

John Watson

Rainbow Warriors AC

Heat 3 20th May 2012

River Tummel

Competitor

Club

Robert Beattie

Earlston AA

David Chalmers

Lochgelly SRC Angling Section

Calum Crosbie

Newton Stewart AA

Donald Forbes

Strathleven Fly Fishers

Jake Harvey

St Boswells Newtown & District AA

Jason Henry

Pitlochry AC

Robert Irvine

Crown FF

Ernie Mackay (snr)

Aberdeen & District AA

Martin Stewart

Ormiston AC

Ian Wilson

Clatto & Stratheden AC

Heat 4 27th May

River Tummel

Competitor

Club

Gillies Breckenridge

Stanecastle AC

Derek Cowan

Lochgelly SRC Angling Section

Keith Dickson

Kelso AA

David Downie

D&B Fly-Fishing

Michael Dunn

Inverurie AA

Andrew Foggin

Earlston AA

Grant Gibson

St Boswells Newtown & District AA

Rab Maxwell

Clatto & Stratheden AC

Kenny Riddell

Aberdeen & District AA

Ian Runcie

Brechin AC

Hugh Skeoch

Crown FF

Dave Wright

St Boswells Newtown & District AA