2010 heat results
National Championship > 2010 heats
Heat 10 - Lake of Menteith
Tuesday 25th May

The final prelim heat of the National Championship was held at the Lake of Menteith and 18 of the 36 competitors qualified for the semi finals. Top rod was Ken Kennedy (Merkister FF) who netted 13 trout for 23lb 13.6oz. Sandy Boag (Moncrieffe AC) was second with 13 trout for 24lb 5.2oz.

Ken fished a black diawl bach and a white booby on a midge tip line while Sandy took his trout on a red diawl bach and cat booby on a slow glass line.




Photo
Sandy Boag(left) and
Ken Kennedy(right)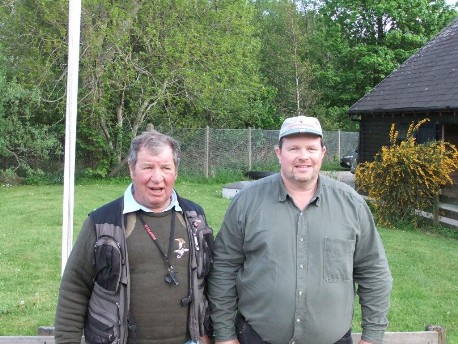 Heat 8 - Loch Leven - 21st May

The sun shone and a very light south easterly occasionally blew across Leven on the morning of heat 8 at Loch Leven. The wind picked up during the afternoon and brought some cloud cover towards the end of the session. Reports of good bags coming off over the previous few days had the competitors anticipating a good day but the clear skies had them apprehensive. The trout however did not appear to be aware of the sun in the morning and provided superb sport for the 16 anglers who had elected to fish their heat there. This was Leven at its very best and the 16 competitors netted 50 trout for just over 90lbs with only 4 of the 16 coming in clean. Davie Moore (Dunfermline Artisans) netted the largest trout which weighed in at 3lb 13oz. If you have a spare day I would recommend spending it at Leven.

Top rod on the day was Michael Thomson (Dalry Garnock AC) who had 9 trout for 16lb 11.5oz. In second was Ian Simpson (Aberdour AA) with 6 trout for 14lb 7.5oz and third was Ian Jones (Kinross AC) who had 7 trout for 11lb 5.5oz.

All the fish were caught in the area between the Bower and the Thrapple. Michael Thomson, Ian Simpson and Ian Jones all took their trout on buzzers on floating and midge tip lines with the retrieve varying between fig 8 and static.


Photo
Leven qualifiers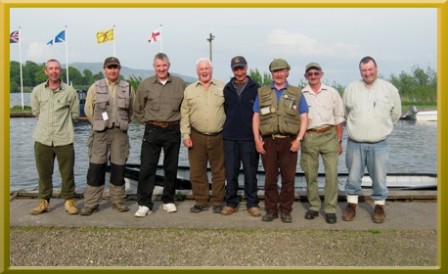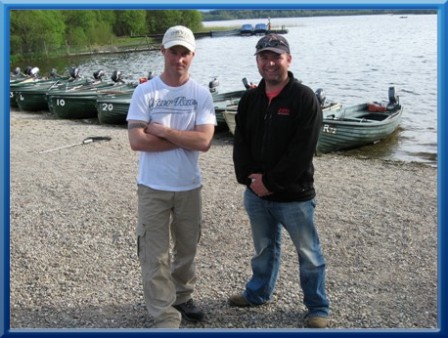 Heat 7 - Menteith - 20th May

Heat 7 was held at the Lake of Menteith on Thursday 20th May. Top rod was Steven Corsar (Inverurie AA) with 15 trout for 28lb 2.8oz. Steven Bett (Fife Constabulary AC) was second with 9 trout for 18lb 2oz and Andy Anderson (Troon AC) was third with 8 trout for 14lb 13.4oz.

This is the first time that Steven Corsar has entered the National Championships but he is no stranger to Menteith and has fished heats of the Scottish Club Championship there.

Steven caught his trout at International Bay, Road Shore and Malling Shore using nymphs and diawl bachs on a midge tip. He caught them throughout the day but had to increase his retrieve in the afternoon. Steven Bett took his trout at the Road Shore, Hotel Bay and Sandy Bay fishing static buzzers and nymphs on a floating line.


Photograph
Steven Corsar on left
Steven Bett on right



Heat 6 - Lintrathen - 19th May 2010

Heat 6 was held at Lintrathen on Wednesday 19th May and 38 competitors took part. There was a tie for the last qualifying place and both competitors will go through to the semis. Scott McGregor (Rescobie Loch Development Assdociation) was first with 13 trout for 20lb 12.5oz. Ray Anderson (Leslie & Glenrothes) was second with 10 trout for 13lb 11oz and Neil Anderson (Monikie AC) was third with 8 trout for 13lb 8oz.

Scott caught his trout steadily throughout the day and never left the Sawmill area and took them by pulling a mosaic sparkler on a 40+ DI 5. Ray took three trout at the back of the birdhide and took the rest in the sawmill area fishing a green pea and a blob on a slim line with a figure of 8 retrieve. By contrast Neil took all of his trout at boathouse corner on boobies and cormorants with a figure of 8 retrieve.



Photo: Ray Anderson(left)
Scott McGregor(centre) and
Neil Anderson(right)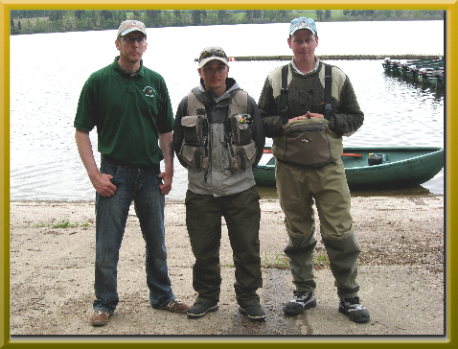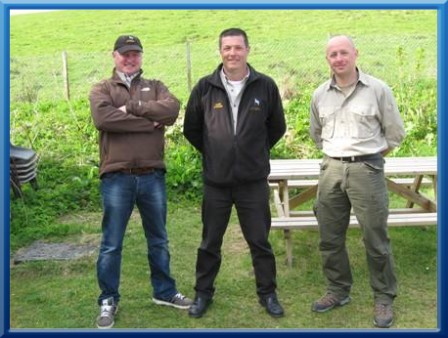 Heat 5 - Carron Valley - Tuesday 18th May 2010

Summer finally arrived and the 37 competitors in heat 5 at Carron went out in bright sunshine which was a change to being chilled by a north wind. While some competitors made light work of the conditions quite a few struggled and there were six blanks.

Top rod was Mark Stephen (Stewarton AC) who had 7 trout for 13lb 9.5oz. Kenny Hall (Lothian & Borders Police) was second with 6 trout for 11lb 5.5oz and Stephen O'Neill (Neilston Fly Fishers) was third with 6 trout for 9lb 10oz.

Mark took his first fish in the morning in Carron Bay and later moved to the dam (East) wall where he picked up the other 6. All were caught on a DI 3 with blobs and sparklers pulled fast. Kenny took 2 of his trout at the road shore and also moved to the East dam wall where he took another 4. Kenny was fishing a cat, blob and orange sparkler pulled fast on an SSI. Stephen took most of his trout in Carron Bay and 1 in Bin Bay. Two of them fell to buzzers on a midge tip while were on dries on a midge tip.

Heat 4 Lake of Menteith
Thursday 6th May

57 competitors went out for heat 4 on the Lake of Menteith in calm conditions and 29 of them qualified for the semi finals. Many competitors struggled while 6 anglers had catches in double figures.

Top rod was Iain Campbell (Inverclyde FF) who had 14 trout for 26lb 8oz. Second was Ronald Gilbert (St Fillans & Lochearn AA) with 13 Trout for 24lb 7.2oz and third was Jim McBride (Lothian & Borders Police) with 13 trout for 24lb 5.2oz.

Fish were caught in most areas of the Lake with Kates Brae, International Bay, Gateside Bay and the Heronry proving best. Iain took most of his fish at Kates Brae where he was fishing dries and buzzers on a midge tip line. Ronald Gilbert took his fish in International Bay and Jim McBride did best in Gateside Bay with cormorants.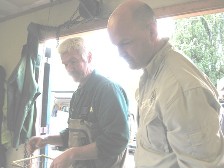 Heat No 3 Carron Valley
Tuesday 4th May 2010

Heat No 3 was at Carron Valley on Tuesday 4th May and as the 37 competitors set off the morning was still very cold and it looked as if a difficult day was in store. However looks were deceptive and Carron fished really well with trout being taken on most parts of the water. As in Heat 2 most of the competitors headed for Carron Bay and 30 Minute Bay with 3 or 4 boats staying to fish the dam wall. The boats at the dam wall took fish early on and competitors were to be found there throughout the day. By 4pm, 233 fish had been caught to give a rod average of just over 6. Ninian Fotheringham (Avonbank Fishing Club) boated a rainbow of 10lb 12 oz which, although it was capped at 4lb, helped him to qualify. 19 anglers qualified for the semi finals with the cut off weight being 10lb 9oz.

Top rod on the day was John Buchanan (Newton Mearns FF) who had 15 fish for 23lb 3oz. Second was Steven Nicoll (Defending Champion) who had 11 fish for 20lb and third was John's boat partner, Ian Anderson (Northern Constabulary) who had 12 fish for 18lb 12oz.

John, who is the captain of the International Team heading to Lough Conn for the Spring International, took fish from behind Gull Island, 30 Minute Bay, Carron Bay and Burnhouse Bay. Both John and Ian were fishing a DI 3 with a mix of a Carron Bunny, Cat, Kate McLaren and Dunkeld Sparkler. John's flies are shown in the photograph below.
Steven Nicoll took all of his fish In 30 Minute Bay fishing buzzers on a floating line.



C:\Users\Tom\Documents\web items\carronh3\ch3flies.jpg
Error File Open Error
Photograph
Ian Anderson (left)
John Buchanan (centre)
Steven Nicoll (right)

C:\Users\Tom\Documents\web items\carronh3\ch3winners.jpg
Error File Open Error
C:\Users\Tom\Documents\web items\carronh3\ch3bigfish.jpg
Error File Open Error







Photograph
Ninian Fotheringham with the 10lb 12 oz rainbow

Heat No 2
Carron Valley: Wednesday 28th April 2010

The second heat of the 118th National Trout Fly Fishing Championships was held at Carron Valley on Wednesday 28th April. Conditions were difficult from the outset with a strong South Westerly blowing across the water. The top three rods all took their fish from the bays on the South side and most of the competitors were to be found in these areas. 92 fish were caught with the brown/rainbow split being roughly 50/50.

Top rod on the day was Tom Wilson (Grizzlecats) who had 9 fish for 12lb 14oz. Second was David Bradshaw (Craufurdland FF) with 4 fish for 9lb 2oz and Brian Fletcher (Dalry Garnock AC) was third with 5 fish for 8lb 14oz. Tom took his trout on a cat booby fished on a midge tip line in Thirty Minute Bay. David caught his fish in Carron Bay fishing buzzers on an intermediate line. Brian also took his trout from Carron Bay on an intermediate line but with black and green snatchers. Nineteen competitors qualified fro the semi finals and these included Tom's boat partner, Peter Edge (St Mungo AC) who had 5 trout for 7lb 12.5oz. George Bell (Falkirk Fly Dressers) had a superb rainbow of 7lb 8.5oz

The Top Three
David Bradshaw (left), Tom Wilson (centre)
and Brian Fletcher (right)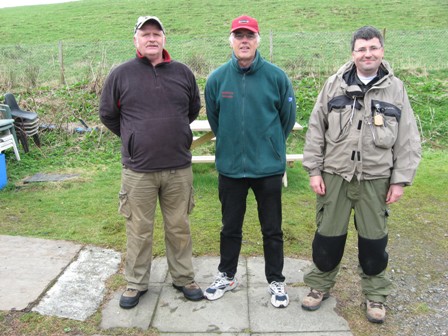 Heat No 1
Lake of Menteith: Tuesday 27th April 2010 Session 10am to 5.30pm

The 118th Scottish National Trout Fly Fishing Championship got underway at the Lake of Menteith on Tuesday 27th April. The day started well as the 56 competitors took to the water and with very little wind the trout could be seen feeding on many areas of the Lake. Although the fish were moving freely most of the competitors found them difficult to tempt. The wind gradually picked up from early afternoon and as the temperature dropped there were fewer fish to be seen. At the end of the day 200 fish had been caught.

The top two rods were in the same boat and between them they were a superb advertisement for the strength and future of our sport. Top rod was veteran Jim Mackie (Dalzell AC) with 10 fish for 19lb 6oz and second spot fell to youthful Martin McCafferty (SANA Youth) who had 9 fish for 17lb 8.8oz. Jim Mackie has fished in more National Championships than he cares to remember while this was Martin's first event at Senior level. Martin was a youth internationlist having represented Scotland's Juniors in 2008 and 2009. In third place with 8 fish for 14lb 15oz was Mike Connet (Bank of Scotland - Glasgow District).

Jim and Martin covered much of the Lake. They started off at Kates Brae before moving on to Lochend, International Bay, Cages Bay and Sams Point. Their top areas were Lochend, Cages Bay and Kates Brae. Both of them fished blobs and cats and while Jim was on a DI5, Martin was on a slow glass. Mike had 4 of his fish in International Bay in the morning and the other 4 in Cages Bay in the afternoon on a booby and midge tip line.










Photograph

Mike Connet, Jim Mackie and Martin McCafferty